in Announcements
Stamps honour First Nations chief, Ukraine
new stamp celebrates Chief Marie-Anne Day Walker-Pelletier
On June 15, 2022 Canada Post unveiled a new stamp recognizing Chief Marie-Anne Day Walker-Pelletier, the venerable leader of the Okanese First Nation, on Treaty 4 territory near Fort Qu'Appelle, Saskatchewan. She led her community for 39 years, which is the most consecutive terms ever by an elected First Nations chief in Canada.
During her time as Chief, Day Walker-Pelletier built a reputation as a matriarch and advocate for her people. She was involved in multiple tribal, provincial and national initiatives related to education, wellness and social reform, and she worked diligently to preserve the culture, language and traditions of her people.
The stamp recognizing Chief Marie-Anne Day Walker-Pelletier is part of Canada Post's new multi-year Indigenous Leaders stamp series. This year, Métis leader Harry Daniels and Inuit leader Jose Kusugak are also being honoured.
Learn more on the Canada Post website.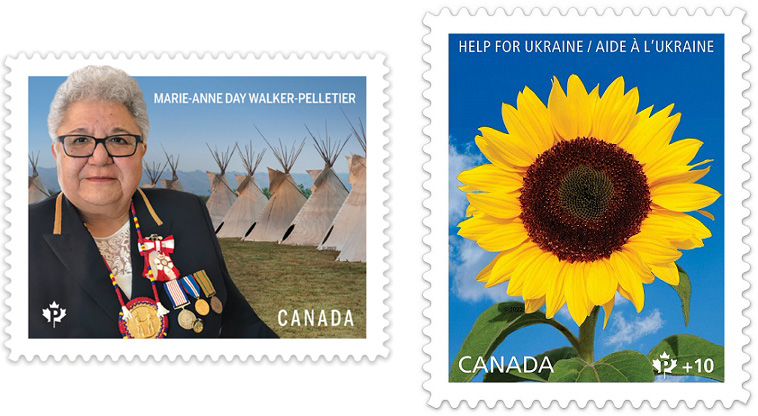 stamp booklet supports Ukraine relief
Recognizing the generosity of Canadians in times of need, Canada Post has issued a semi-postal fundraising stamp to provide customers and collectors with a way to support the people of Ukraine and the escalating humanitarian crisis.
A donation of $1 from each booklet of 10 stamps (and 10 cents from the Official First Day Cover, a special collectible envelope) will provide essential aid — and hope — to those affected by the current conflict. Funds raised through the purchase of this stamp will be distributed through the Canada-Ukraine Foundation. This is the first time that Canada Post has issued a stamp in support of a country in need of humanitarian assistance. The stamps are available for purchase at canadapost.ca and post offices.
Today, nearly four per cent of Canadians can trace their roots to Ukraine. The sunflower is Ukraine's national flower and has now become a widely recognized symbol of peace and unity. The yellow sunflower and blue-sky background reflect the colours of Ukraine's flag. Sunflowers also adorn the vinok, Ukraine's traditional floral headdress.
Learn more on the Canada Post website.