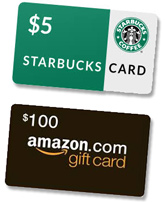 Spread the Word: client referral program
Recommend Willow and receive a gift card or a donation to your favourite charity
We know word-of-mouth marketing is decidedly old school, but what's old is new again! We truly appreciate your continued support and referrals, and our Spread the Word program is our way of saying thanks.
Just for sending us your referral names and contact information, you will receive a token of our appreciation—a $5 Starbucks gift card for each qualified referral* and a $100 Amazon gift card for each referral who becomes a customer of Willow. Best of all, there is absolutely no limit to the number of referrals you can make, or the number of Amazon gift cards you can earn.
If you prefer, we'll make an equivalent donation to the charity of your choice in your name or the name of your organization.
Start referring by filling out the form below! It's that simple.
*Qualified referral: The contact you refer must have responsibility for purchasing printed materials, for an organization that regularly purchases printed materials. We (and they) would appreciate it if you get their permission to provide us with their contact information first!